Posted by naeemsheeraz |
Comments Closed
|
Blog
If you're tired of your car not standing out from the rest, there are many simple and affordable ways to make it look better. Whether you want a more modern or classic aesthetic, there are plenty of options for improving your vehicle. This blog post will give you some great tips on how to customize your ride within any budget. There are plenty of ways to make your car look more impressive. With the above simple upgrades and tweaks here and there, you can transform an ordinary ride into something truly unique that reflects your style.
1. Lighting Upgrades
Adding new headlights or taillights, for example, can give your car a fresh, updated look while also improving visibility and safety on the road. LED headlights, in particular, are a popular choice for car lighting upgrades, as they offer brighter, more efficient lighting than traditional halogen headlights. Another popular lighting upgrade is under-car lighting. This type of lighting is installed underneath the car and can create various effects, such as a colorful neon look or a more subtle, ambient light.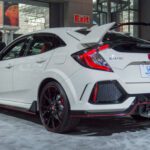 Under-car lighting such as the XK Glow can be controlled using a remote or a smartphone app, allowing you to easily change the color and brightness to suit your mood or the occasion. Other lighting upgrades include wheel well lighting, which can be installed in the wheel wells to create a glowing effect around the wheels, and interior lighting, which can be used to add ambient lighting to the cabin and make it feel more inviting.
2. Rim's Modern Design
Your car's rims can have an impact on its overall look. If you're looking for a dramatic change, consider getting a new set of rims in a style and color that complements your car. There are many styles, including classic designs and more modern looks. You can also get custom-painted rims to add an extra touch of individuality. Whatever you choose, measure the wheel size and bolt pattern before you purchase new rims, so they'll fit your car perfectly. If you want an even more unique look, consider getting a set of custom wheels. These are made from high-quality materials like aluminum or carbon fiber and come in all shapes and sizes to accommodate different tastes. Custom wheels also provide added performance benefits because they're designed for optimal weight distribution and handling, so you can feel confident you're getting the most out of your car.
3. Window Tinting
Window tinting is a great way to give your car a sleek and modern look while protecting it from harmful UV rays. Tinted windows are also useful for added privacy if you have people in the car who don't want their presence known. Several different types of window tints are available, ranging from light to dark shades. It's important to note that there are laws governing how dark-tinted windows can be in some states, so check with your local regulations before you get started. Tinting isn't only for the windows, you can also tint the tail lights and headlights for a unique look. This is especially popular with cars with light bars on the front or back, as it creates a cool effect when the lights are turned on. You can also combine different colors for a truly one-of-a-kind look.
4. Front Grille
Whether it's changing the material or the grille's shape, there are myriad ways to make your car look sleek and stylish. For a subtler change, consider switching the material of your grille from metal to plastic. Your car will maintain its recognizable identity but with a more modern feel. If you're going for something bigger, you can get custom aluminum mesh inserts that add classic chrome accents while making your vehicle stand out from the crowd. Plus, they provide extra protection against rocks and insects hitting your hood during long drives.
5. Denting & Painting
Dents can detract from the overall appearance of your car and make it look older and less well-maintained than it is. One way to fix dents is through paintless dent repair. This method involves using specialized tools to gently massage the dent out of the metal without damaging the paint. It is a quick, efficient, and cost-effective way to remove small dents and a good option for those with limited time. Another way to fix dents is through the use of body filler and paint. This method involves sanding down the damaged area, applying body filler to fill in the dent, and then repainting the affected area to match the rest of the car. This method is more time-consuming and costly than paintless dent repair but can be used for larger dents and dings.
If the dent is too big and affects the metal structure, it is best to take it to a professional body shop where the experts can properly repair it. They will use specialized tools, techniques, and equipment to reshape the metal and return it to its original shape.